Fairview Family Fun Night is August 27, 2022, beginning at 5 pm. The Harmony Grits, a mens' a cappella group, will entertain us with a variety of musical selections. Our fellowship time will feature expertly cooked hotdogs with all the fixings. The meal with conclude with an ice cream sundae bar. Yummy all around!
The Harmony Grits
Harmony Grits is what we call a "seniors quartet." I guess that is just a polite way of saying that we are all a bunch of old guys. To be a seniors quartet, all members have to be at least 55 years old (it should be obvious which one of us barely qualifies) and you have to have an average age of at least 60 years old (it should be equally obvious which one of us helps pull up our overall average age way up.)
Seriously, Harmony Grits has won the Carolinas District Seniors Quartet Contest and the right to represent the Carolinas District at the International Seniors Quartet Contest on several occasions.
Members of Harmony Grits are Wally Miles – Lead, Ted Leinbach – Bass, Jim Nappier – Baritone and Steve Tremper – Tenor. All of us have been in numerous other quartets when we were younger (for some of us that's much younger). How many quartets? We really can't remember.
Wally lives in Mooresville, Ted in Winston-Salem, Jim in Clayton and Steve in Cary so quartet rehearsals are usually someplace in the middle and start in the afternoon. We all like to go to bed early and don't like to drive at night. If you find us yawning during our performance, you'll know why.
LOVEFEAST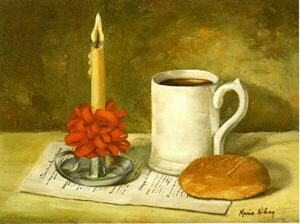 Join us for our
Christmas Lovefeasts and Candle Lighting Services
Sunday, December 18, 2022 – 7:00 p.m.
Friday, December 24 – 2:00 and 5:00 p.m.
*Band Prelude begins 30 minutes prior to each service*