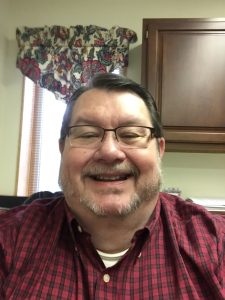 Lewis Phillips, Director of Music/Pastoral Assistant, joined the staff of Fairview Moravian Church in August, 2003. Prior to that he served as Associate Pastor/Music and Senior Adults at First Baptist Church of Mocksville, NC for 15 years.  One of the highlights of his ministry there was when he and Barbara Basham, the Director of Music at First United Methodist Church in Mocksville, founded the Davie Community Youth Choir.  This choir was open to all youth, grades 6-12 in Davie County. At one point there were 68 youth in the group, representing 21 churches in the county.  It became so large that is was split into a middle school and high school group.
Lewis loves his ministry here at Fairview with the Chancel Choir, the Adult Handbell Choir and the Fairview Friends, the Senior Adult ministry of the church. During his ministry at FMC, Lewis has conducted numerous special musical performances such as the annual Christmas cantata which was accompanied by a chamber orchestra made up of players from The University of North Carolina School of the Arts.  He also had the privilege to serve as choral director at the 2017 Moravian Music on the Mountain, sponsored by the Moravian Music Foundation.
Lewis grew up in Talladega, Alabama.  He earned a Bachelor of Music degree from Samford University in Birmingham, Alabama and a Master of Church Music degree from the Southern Baptist Theological Seminary in Louisville, Kentucky. He was ordained to the Gospel Ministry by the First Baptist Church in Mocksville in 1995. Lewis resides in Mocksville with his two cats, Lucy and Ricky.
Let the word of Christ dwell in you richly; teach and admonish
one another in all wisdom; and with gratitude in your hearts sing psalms,
hymns, and spiritual songs to God. (Colossians 3:16)