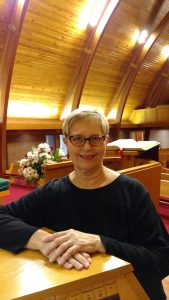 Who is Nancy?
"I am a child of God to whom God has given talents and abilities that can be used in Christian worship. I feel spiritually led to use my talents and abilities to praise God, to enhance the worship experience, to bring comfort in times of grief, and to tell the gospel story through music. My favorite hymns – and those that describe my faith walk – are "It is Well with My Soul", "Blessed Assurance", "Amazing Grace", and "I Love to Tell the Story".
Since I was three years old, I have always participated in church activities, especially music ministry. I was reared in church, my piano and vocal talents were recognized, and I was given opportunities to play and sing for services early in life. I have always felt led to use my talents to honor God as a choir member and soprano soloist; playing piano, organ, or electronic keyboard; writing hymn lyrics; and participating in creative activities and dramatic performances. I personally worship when I contribute my musical talents to a worship experience and others seem to worship through them, too."
I am a church member. I was hired to be the choir's pianist over four years ago. My husband and I were quickly embraced by the choir and Fairview's congregation and felt the love of a second church family. We were attracted to Fairview's style of worship and strong music ministry and decided that we belonged here. We joined over two years ago.
Nancy is our choir pianist. She also can play the organ and does piano duets. She enjoy singing in the choir and singing duets with her husband. Nancy is also a vocal soloist. She is a member of the handbell choir, helps plan monthly activities for Fairview's Senior Friends, and helps with entertainment for Fairview events like impromptu skits, kazoo choirs, and other creative activities. She feels called to provide a fur-ever home for special needs cats. Currently, she and her husband have eight cats ranging in age two years to fifteen years. Nancy enjoys landscape photography, creative writing, crossword puzzles, organizing projects, interior decorating. She enjoys budget shopping….it's the thrill of the hunt for her! Nancy also enjoys clowning and using her humor to make people laugh. Nancy says "I believe that laughter is truly the best medicine for what ails one's spirit."